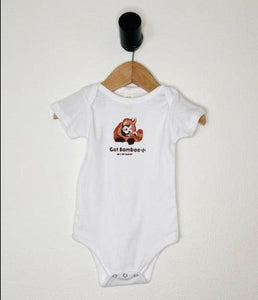 100% Organic cotton.  GOTS certified .Made in the USA.   Local talented artist.   
One of the red panda's main sources of food is bamboo.
Bamboo made from viscose rayon is a popular fabric in apparel, however, it requires harsh chemicals to create that fabric which makes it not as eco-friendly as it appears.  Be a conscious consumer when making purchasing decisions.  Look for certifications like GOTS which is the Global Organic Textile Standard certification.
Our cute lap shoulder bodysuit is multi purpose, perfect for a photo op, can be worn as a romper, tee or undershirt. 
Our bear hug bodysuit coordinates with our new bear collection, but can also be paired with our other collections too.  So many options for this one bodysuit with 3 snap closure at legs.  Pairs with our heather grey pant or our animal kingdom swaddle as a great gift.
With every purchase of our garments we donate back to a non-profit organization that cares for endangered animals. 
Each garment is hand wrapped with tissue paper and string....perfect for your baby or a friend.